In late April, we hit the road NPAN style. We chose to celebrate the National Parks Service's free entrance days for National Park Week by taking a whirlwind tour of Southern Utah.
Gabe, Matt and Chris were joined by our friend Sean in Las Vegas and we hit the road in a car and on two motorcycles. Our trip led us through three national parks (including Zion, which wasn't a destination, but how could we not at least drive through?) and two national monuments. It was epic, and awe-inspiring.
Our routine was great! Eat a substantial breakfast, hit the road, drive through some amazing landscapes, grab some food and head out into the park to go shooting for the late afternoon and evening (often until 2 or 3 a.m.).
Here are individual highlights from the adventurers:
Bryce Canyon National Park - by Matt Hill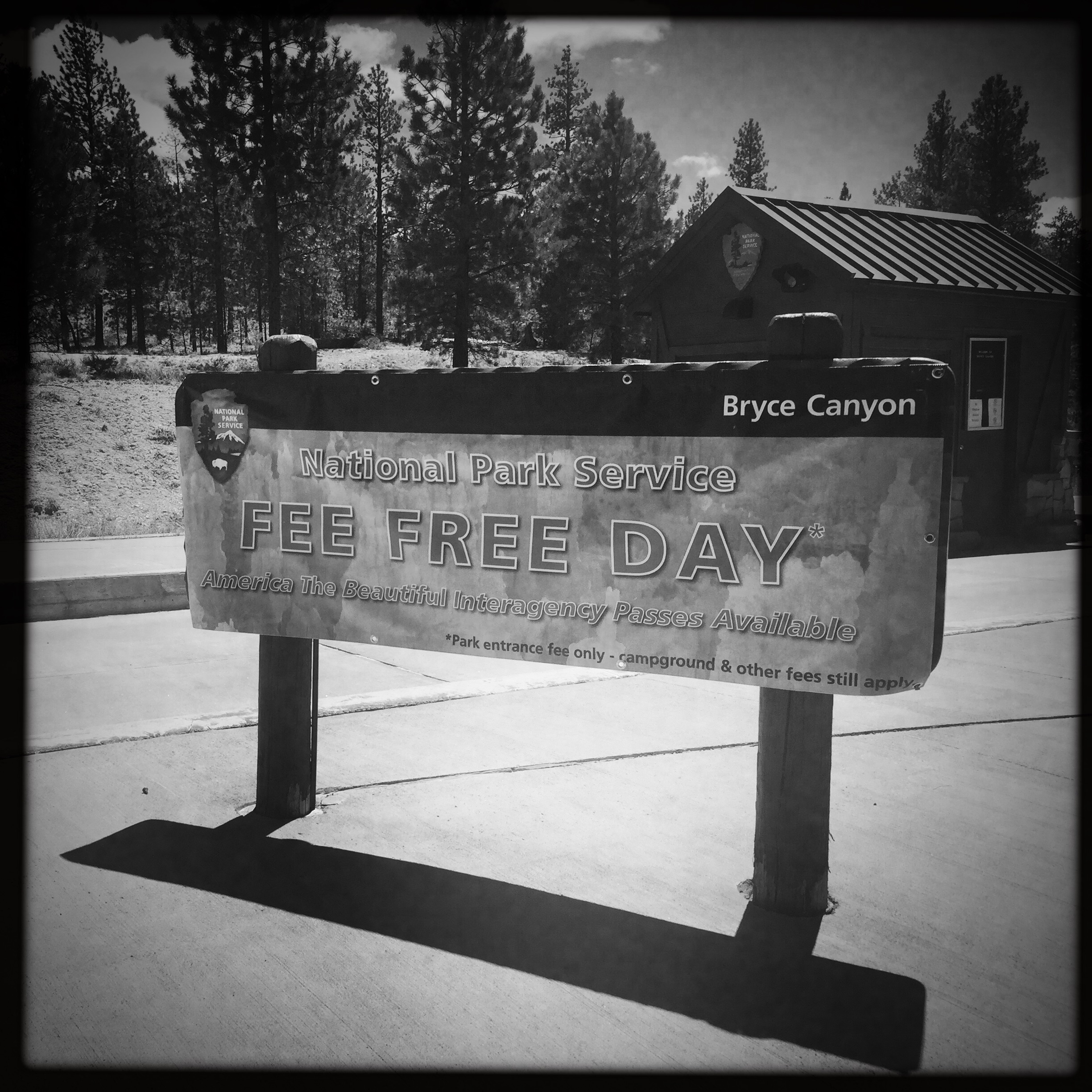 My first impression was a gasp when I viewed Bryce Canyon under a full moon. A massive canyon filled with hoodoos and trees. And gorgeous shadows. It was brutally cold, even for late April, and we withstood the wind on the canyon rim to enjoy the view and make some images.
Upon descending into the canyon, the wind died, as well as my hopes for avoiding aerobic exercise for the day. ;-) What goes down, must come up! That canyon is deeeeeep and steeeeeep. Nonetheless, we hiked into the hoodoo field and I spent a lot of time playing with the relationship between eroded sandstone rock and living wood. What a gorgeous juxtaposition of colors, textures and shapes.
We're fortunate the skies cooperated in a big way. Very happy with our experience there, despite hiking back up the canyon with 30+ lbs. in my backpack at altitude.
Visit the Bryce Canyon Official NPS Website to plan your visit!
Capitol Reef National Park - by Chris Nicholson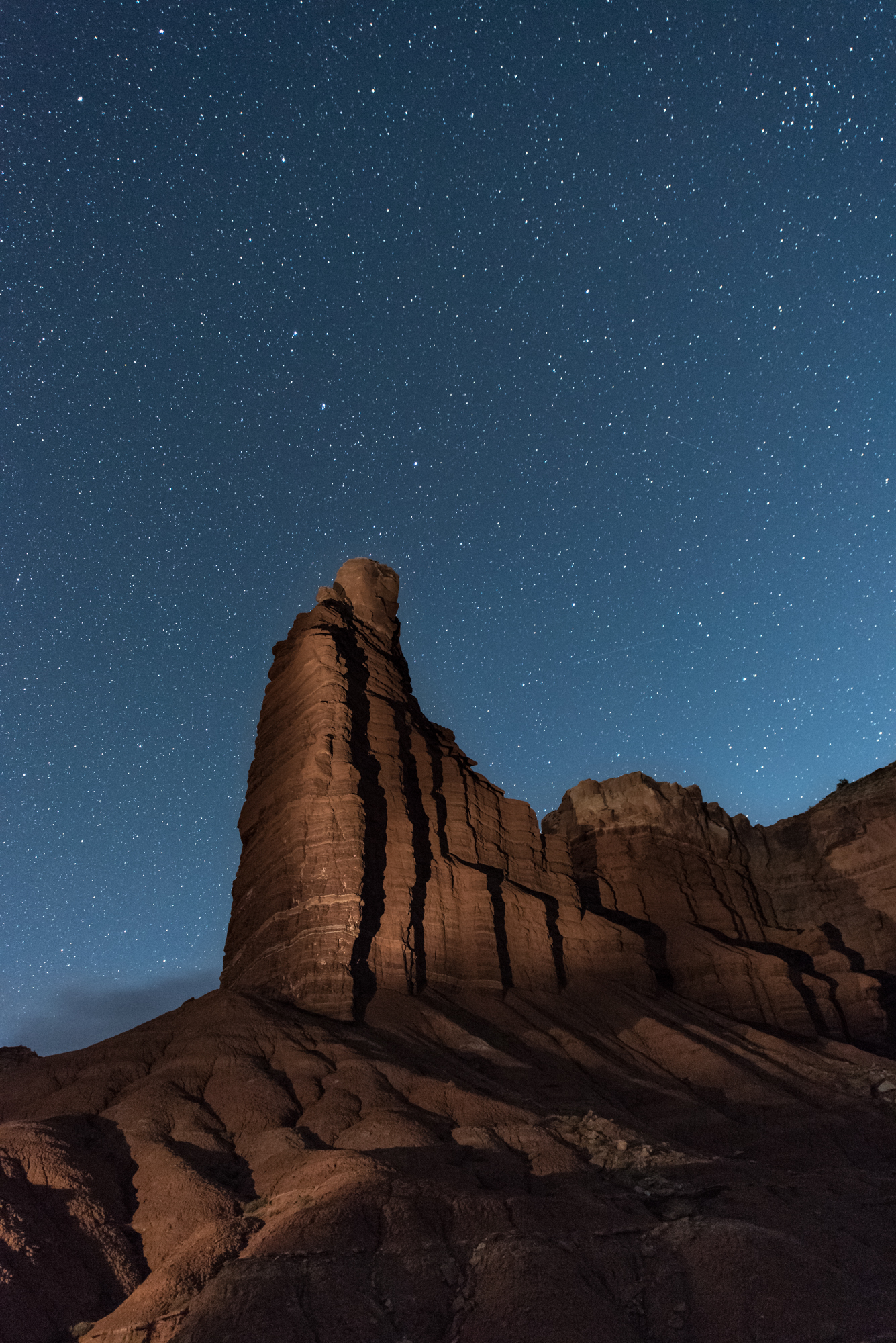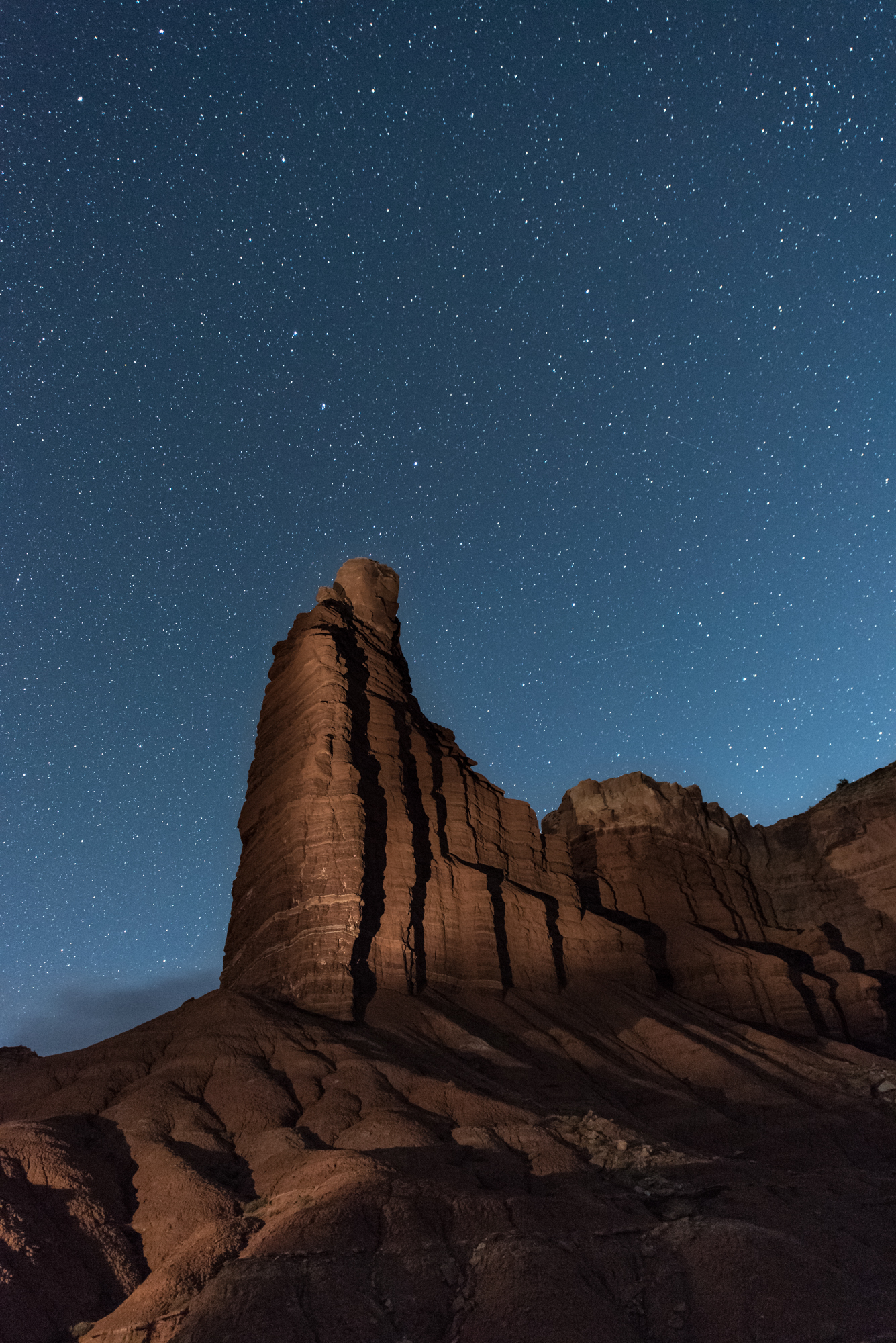 Capitol Reef has been on my bucket list for a couple of years, so I was thrilled we were including it on our road trip.
But to get there, first we drove through the big shocker of the trip: Grand Staircase-Escalante National Monument. None of us knew much about it, other than that it exists. And it's beautiful! We stopped about four or five times, mesmerized by both its size and its amazing landscapes. We didn't have time to linger, but we will be back there someday for sure.
We arrived at Capitol Reef with just enough time to scout some locations in daylight, which is important in a place with such dark night skies. (Capitol Reef is one of only three national parks designated as Gold Tier by the International Dark-Sky Association.) Checking our Photo Pills app, we knew we would have one hour of utter darkness before the moon rose, so we planned to start our evening photographing star trails at Chimney Rock.
From there we went to the orchards in Fruita, a remnant of the vibrant agricultural community in that area more than a century ago. The orchard proved difficult to photograph, primarily because it's the one spot we did not scout well; instead of shooting right away, we spent 45 minutes walking around in the dark trying to imagine some compositions.
We ended the night near Panorama Point. We'd scouted a nice location with a road S-curving in front of a distant mountain. We each set up a composition, and Gabe manned our intervalometers while Matt drove the car and I held a Pixelstick out the sunroof, creating light trails along the road. The creativity was fun, but the wind was brutal and cold, so as soon as we felt we nailed the shot, we packed things in for the night.
On our second night in Capitol Reef, we were joined by our friend Steve Ryan, a sports photographer from New York City. He was very gracious in agreeing to drive us out to Cathedral Valley, an area filled with wonderfully photogenic rock formations accessible only by primitive roads. Unfortunately, a quick storm a few hours before departure made those roads impassable.
So instead we night-hiked to The Tanks, a series of natural water holes a short (but steep) climb up from Capitol Gorge. It was a gorgeous hike (ha! see what I did there?), a challenging (but fun) shoot, followed by a photograph-slowed hike back out of the gorge.
We are all eager to run a night-photography workshop in Capitol Reef some year soon. Stay tuned!
Visit the Capitol Reef Official NPS Website to plan your visit!
Natural Bridges National Monument - by Gabriel Biderman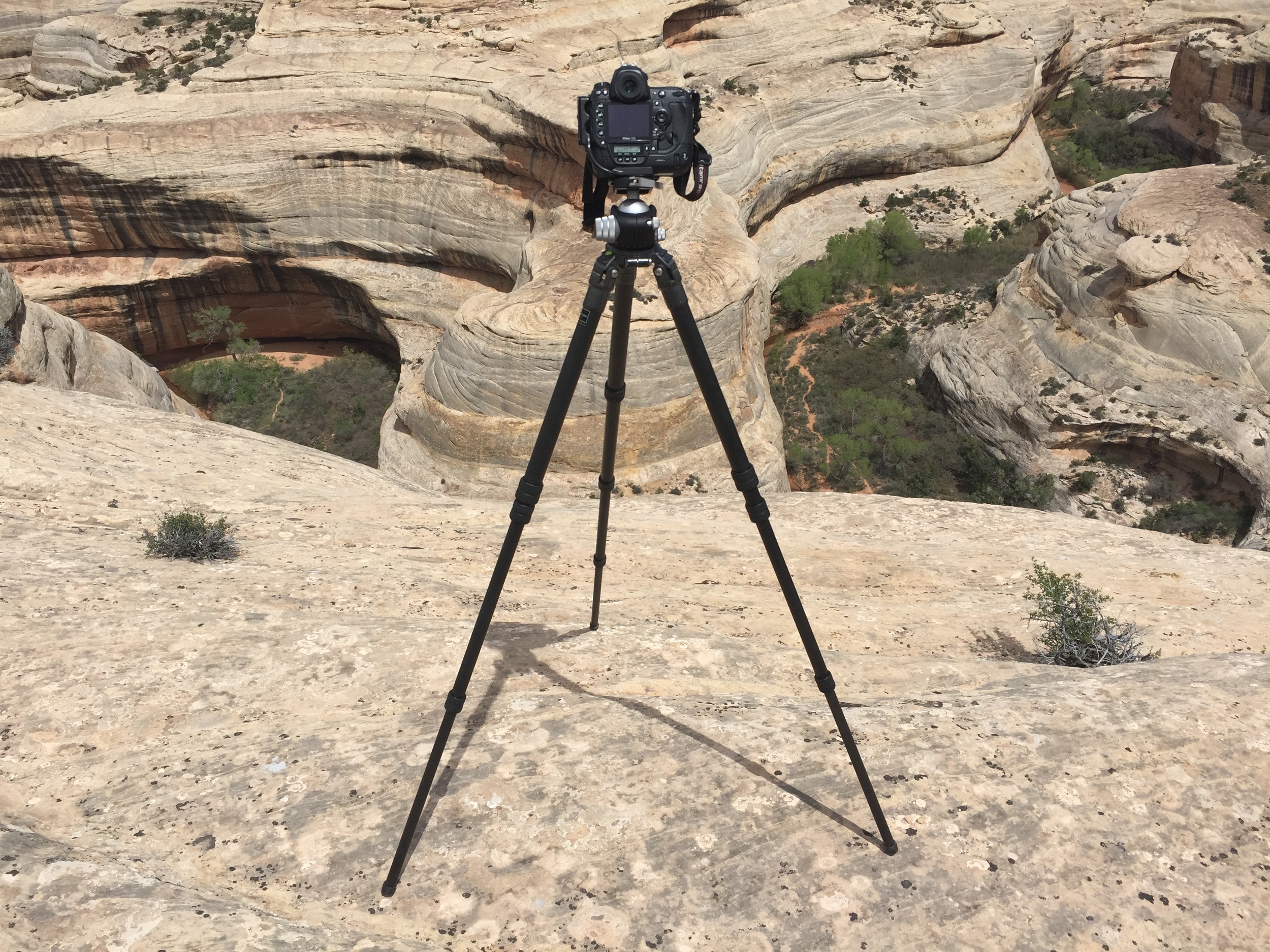 Our quest for the darkest skies leads us to some very remote locations. But the opportunity to work with no light pollution and crystal-clear skies with thousands of stars is an experience no one will forget.
Natural Bridges National Monument is one of those special places. Located 40 miles from the nearest town in Southeast Utah, Natural Bridges is the oldest National Park Service site in Utah (1908) and was the first "Dark Sky Park" to be certified by the International Dark-Sky Association.
We arrived a few hours before sunset and had the most amazing conversation with Ranger Ted Hodson as he shared his stories, photographs and advice for how we could make the most of our one evening. Imagine three bridges that lie at the bottom of a deep canyon, formed from an ancient river over 260 million years ago.
You can do the 8-mile loop drive (in 20 minutes) and get little peeks of two of the three bridges, but the real adventure lies when you walk down the canyon and see the bridges act like windows to the stars.
So that's what we did. With overcast weather looming we chose the path to Owachoma—probably the most photographed of the three bridges. We had seen the images at the visitor center and were focused on looking for new angles. I put myself right under the bridge and Matt and Chris found an oblique angle to start brushing light under the bridge. The three of us worked together on a few more angles and group light painting until the clouds enveloped the stars.
They say you can see 15,000 stars on a clear night at Natural Bridges. I stopped counting after 500.
Visit the Natural Bridges Official NPS Website to plan your visit!
Thanks for reading. Tell us if you participated, and how, in National Park Week. Did you #findyourpark? We'd love to hear more!
Upcoming workshops from National Parks at Night